Each new day is an opportunity for a new adventure.
The more we become aware about ourselves and our surroundings, the closer the point where our everyday lives start to transform from a mechanical daily routine into a force of infinite creative possibilities.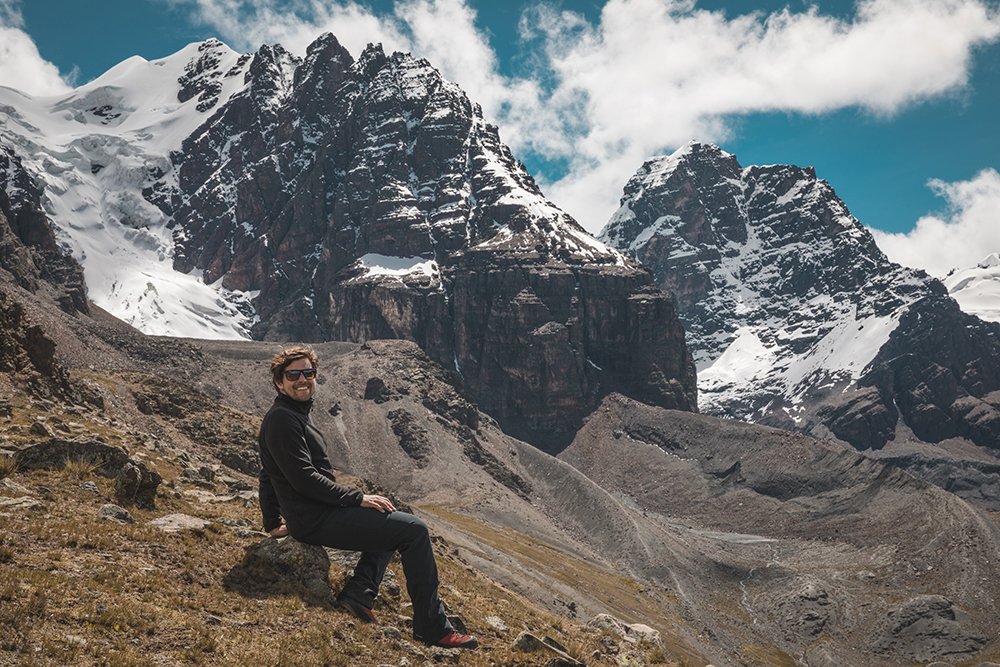 A single decision can trigger a 100.000 mile journey !
We make over 30.000 decisions in one day, some more and some less conscious. However, among these decision are the ones who shape our personal realities.
These decisions are closely related to our beliefs, knowledge and experience and their impact on our lives can be prosperous or devastating.
Some of these decisions are like concrete, chaining us firmly and deeply within the worlds of "not-possibilities"…while some are like waves, setting us on a journey into the lands so foreign and strange that they feel almost otherworldly.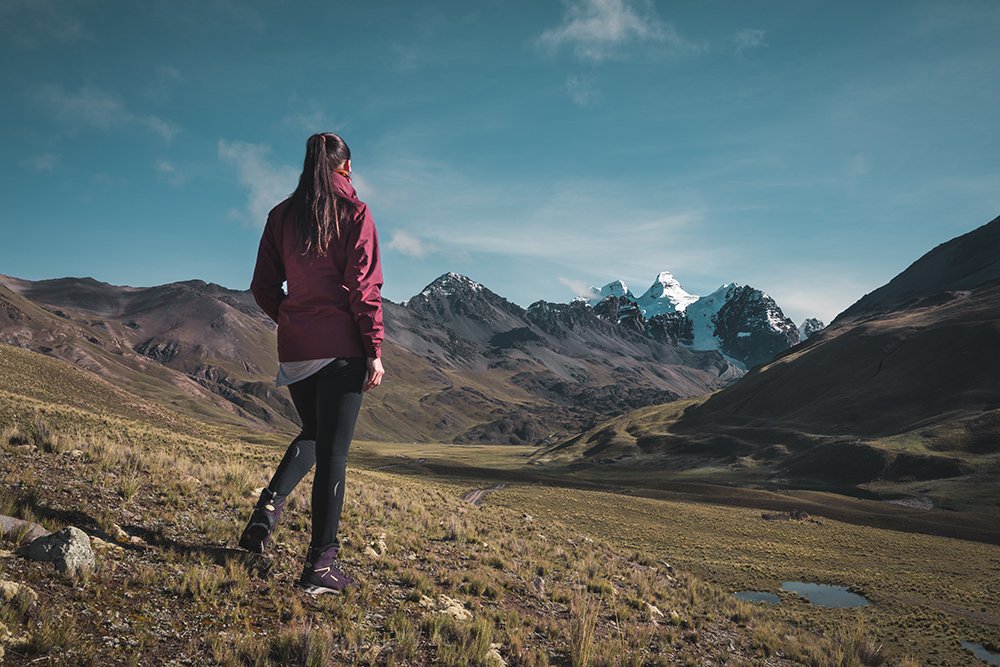 Visiting South America truly felt like we have went to another planet.
We were fortunate enough to ride one of these "decision" waves…and it took us far, far away, all the way to this amazing land, where the ancient mountains strive to reach the infinite skies…and before we knew it, we were slowly making our way to the starting point of the final and most challenging trek of our Peru-Bolivia 2018 trekking adventure – Pico Austria (5350m).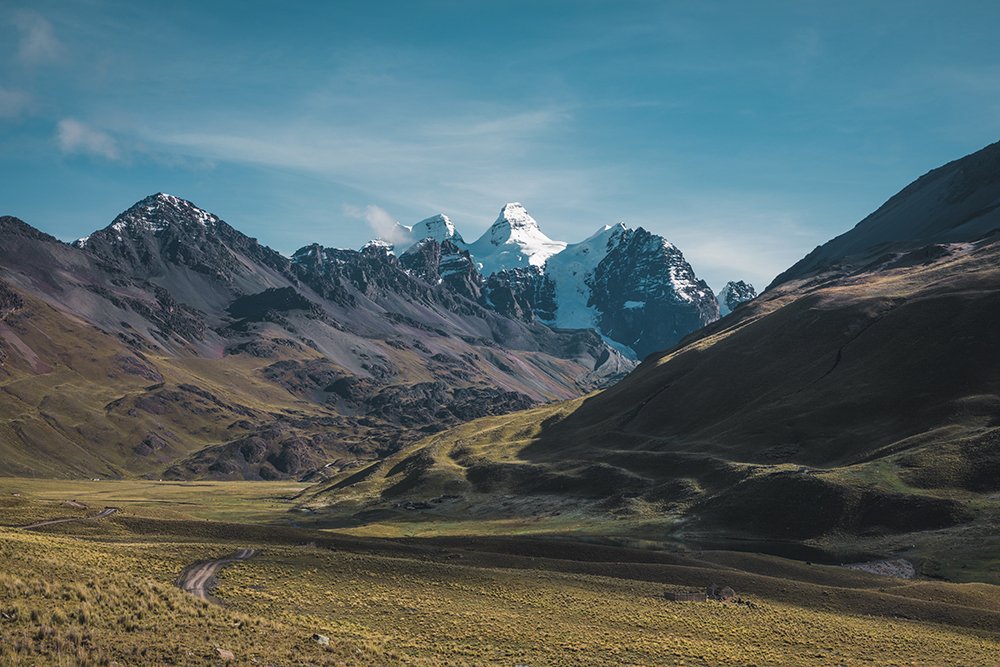 A journey to to "The Cloud" temples…
It should be noted that most of the best trekking tours in this part of Bolivia are located near La Paz, which makes this city a great acclimatization base for all potential climbers.
The "Pico Austria" trek was also located relatively close to La Paz: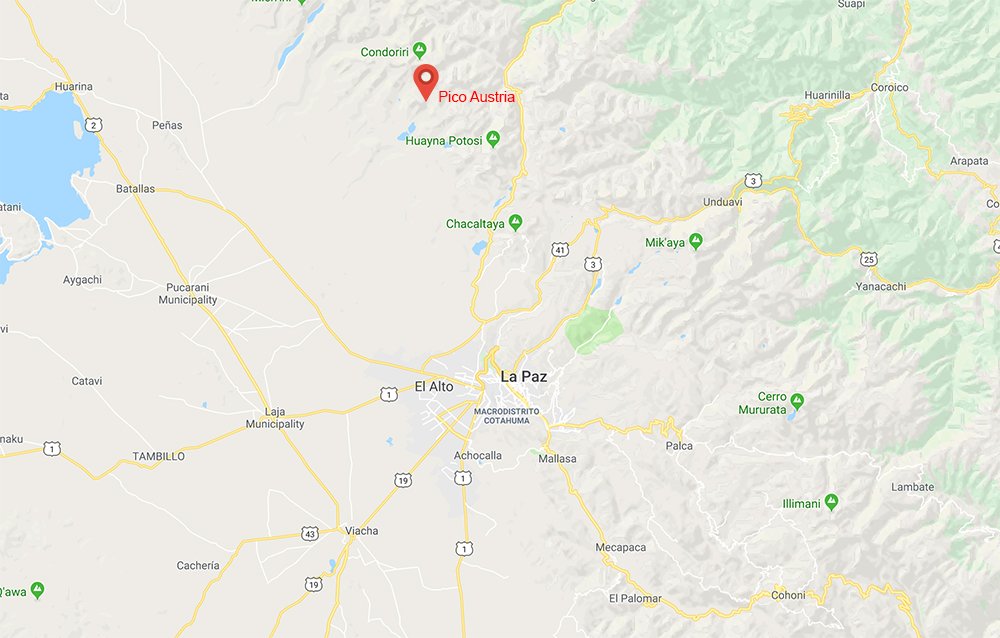 While on our way, we have noticed a HUGE mountain peak reaching an impressive 6100m, called Huayna Potosí. This was one of the highest peaks in Bolivia and also one of the highest in the Southern Hemisphere.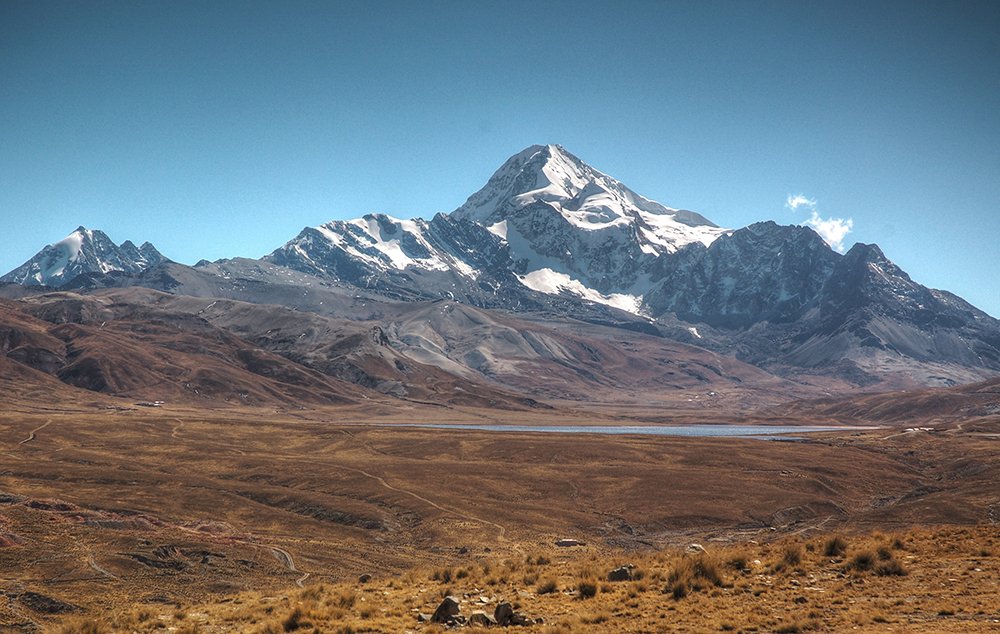 This image was taken from: HERE
We saw literally the same angle of Huayna Potosí, but the weather conditions were quite bad and we didn't menage to get the shot before it became covered by clouds.
We were to attempt an expedition to Huayna Potosí (which lasts 2 days minimum) but we had to cancel it due to mentioned bad weather conditions.
However, the closer we got to Pico Austria, the more we realized that the landscape was more than impressive and that this trek would be quite challenging.
A wonderful waterfall and many adorable alpacas, scattered across the vividly green fields, greet the climbers at the very beginning of the trek.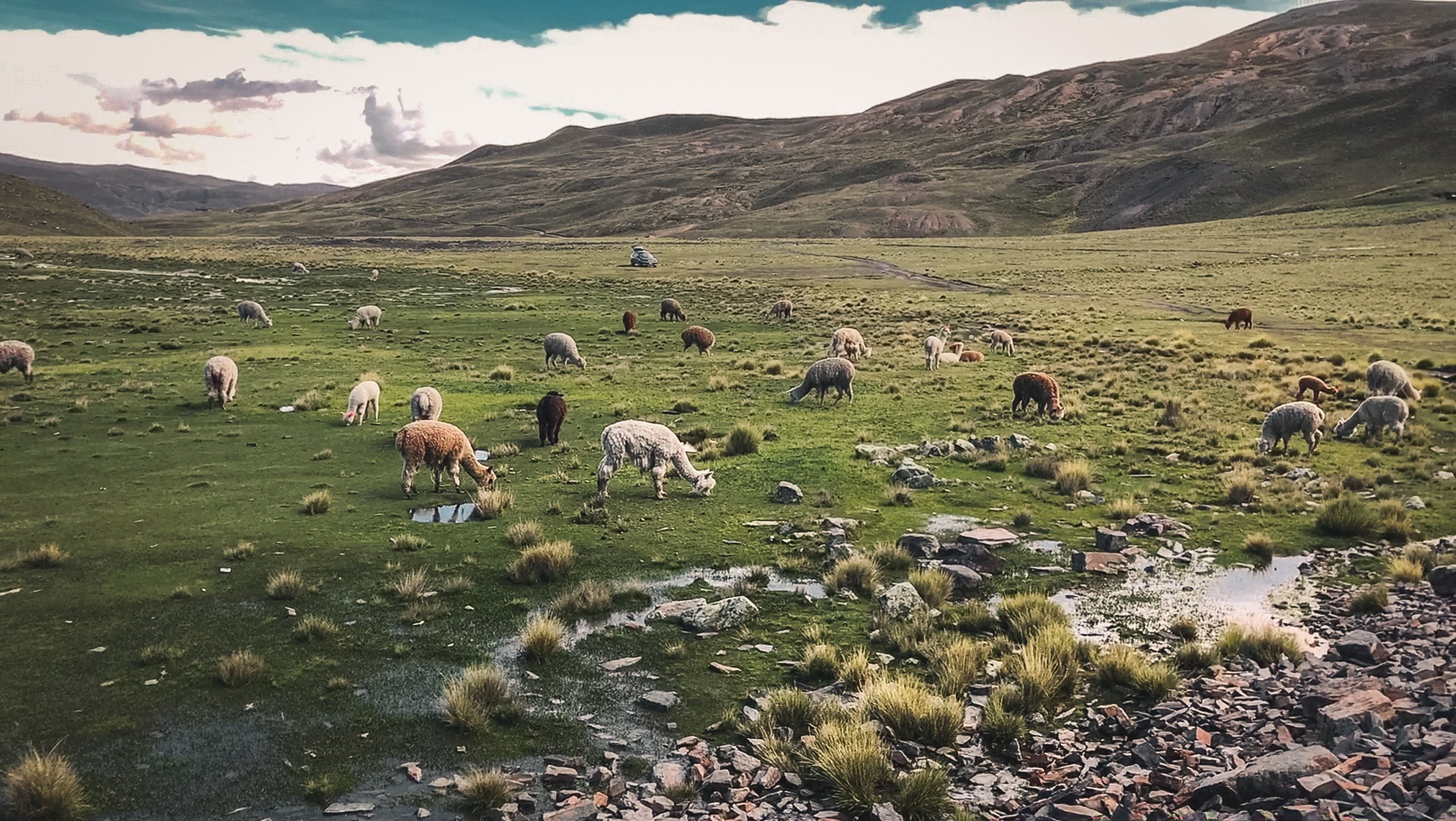 Oh, hi !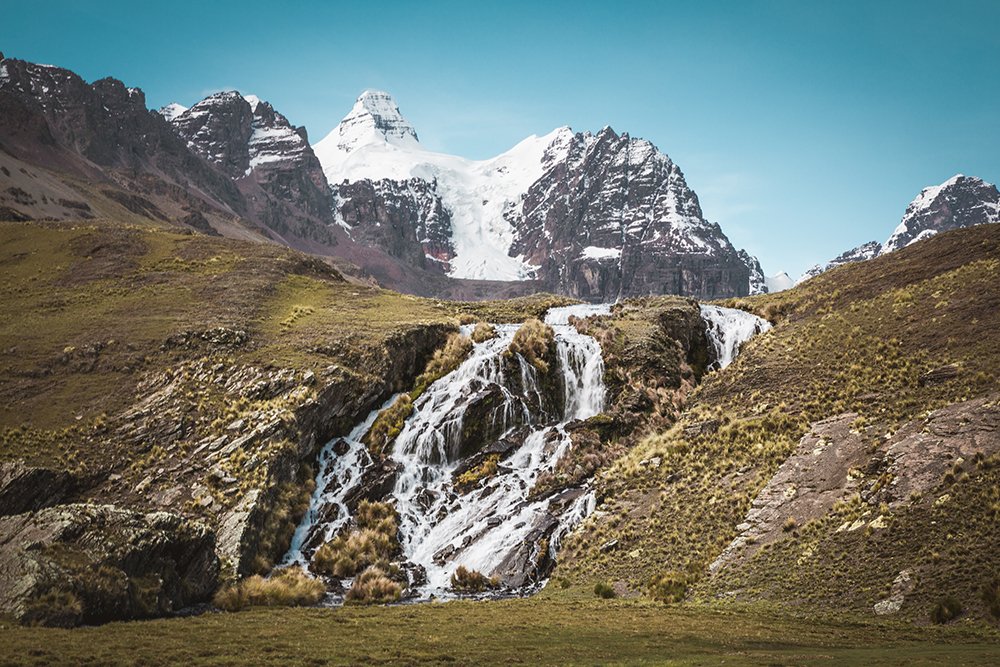 The only thing missing were the mountain fairies…
The begging of this trek was very relaxing and it had a minimal incline. As we slowly progressed further, we came across many wonderful natural scenes along the way.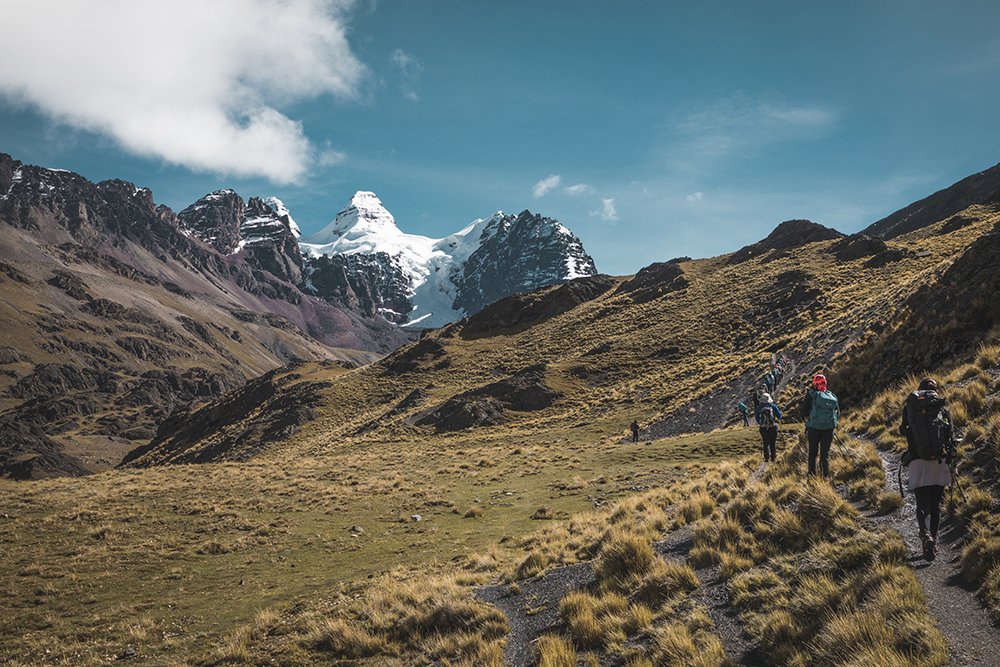 Such as this…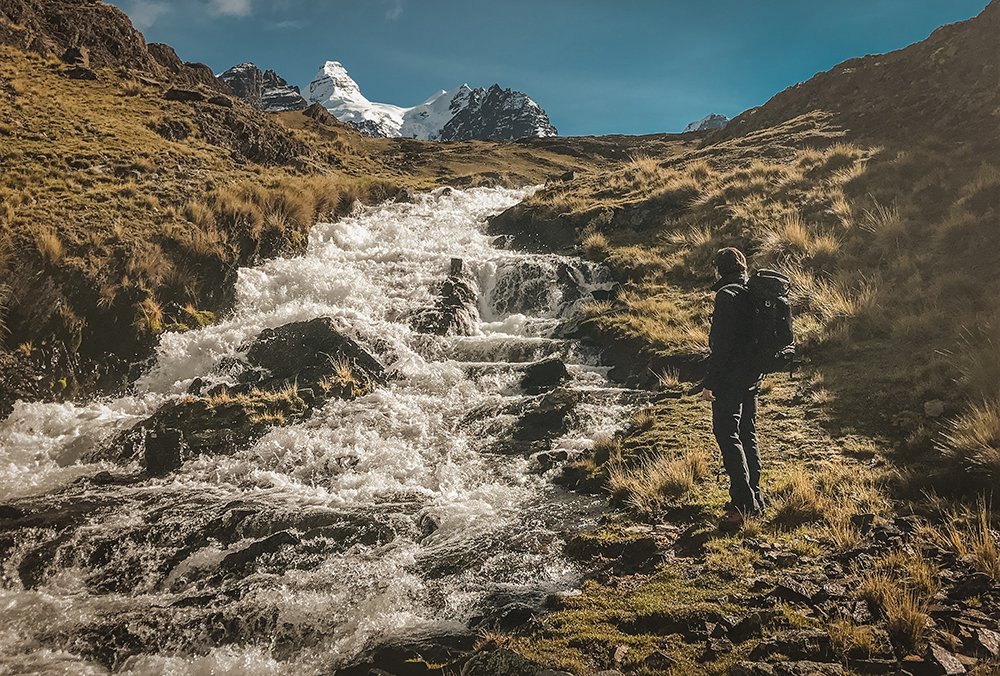 or this kind of scene… (the quality of this image could have been better but I liked the moment so I decided to share it anyway)
Just when we thought "It wouldn't be half bad if there was some kind of laguna somewhere along the way…" – we arrived at laguna Chiar Khota(4700m).
One would think that we would be used to the inexplicably beautiful and immense Andes by know… and so did we, but than you discover a laguna such as Chiar Khota: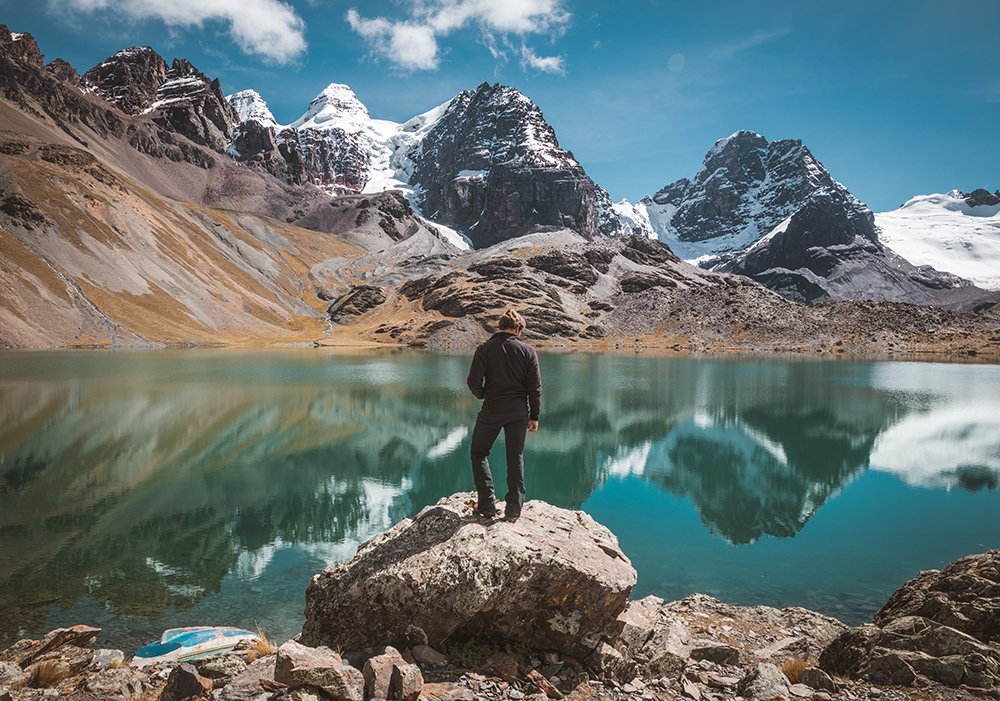 Sorry, but "getting used" to this was just not possible… (at least for us it wasn't)
This mesmerizing turquoise laguna was so calm that it flawlessly reflected the blue skies above.
During 90% of this trek, we were blessed with wonderful and almost cloudless weather – which was quite lucky since the rainy season in Bolivia includesd the entire month of March as well.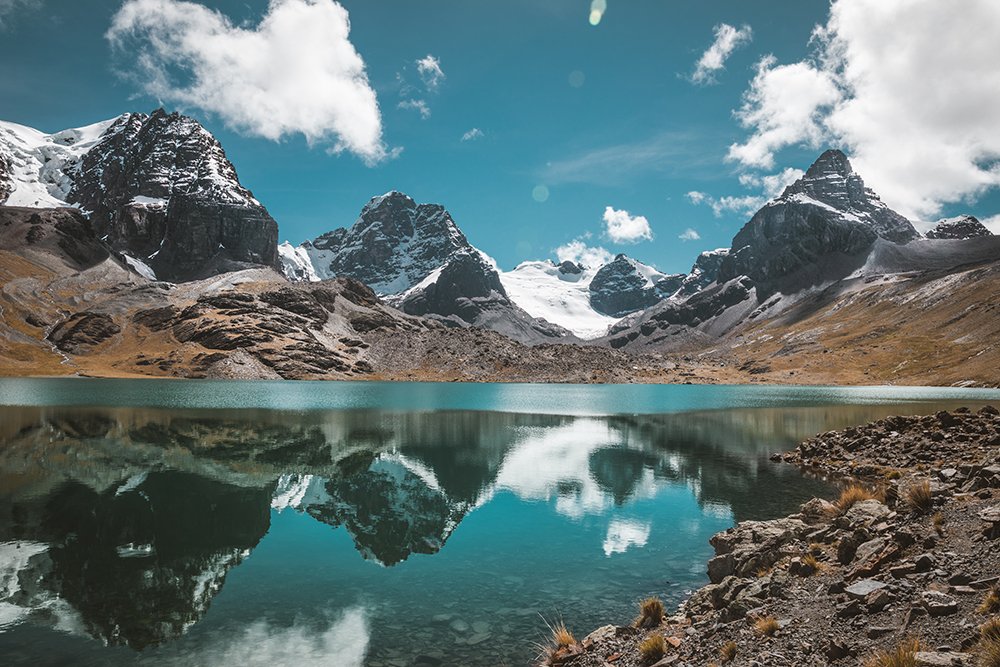 Dear Andes, it seems that you just won't stop blowing us away…
Just a few minutes after our arival to this wonderful laguna, which stood at 4700m altitude, we definitely felt that the air has become "thin".
Each step in this altitude counts (and feels) as several at the sea level. Compared to the sea level conditions, the mineral and vitamin consumption of our bodies is 3 times higher at such high altitudes.
Spending the rest of the day by this wonderful Laguna had seemed very tempting, but we were determined to reach the final point that had awaited some 650m higher.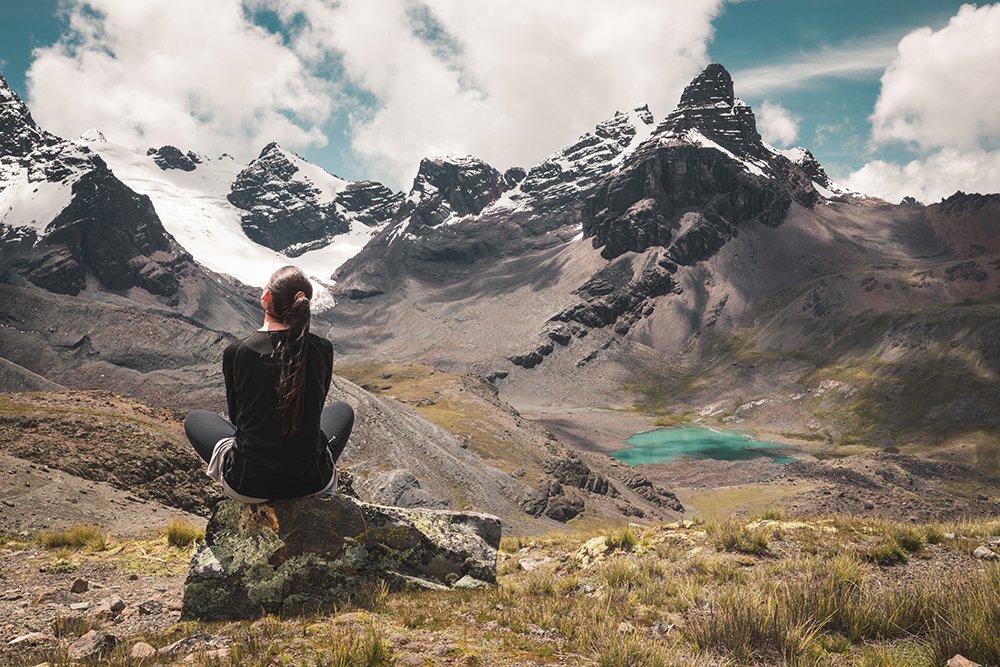 Who needs air while being surrounded by all this natural wonders…
Before I continue, I must mention one very important thing.
Prior to this trek, we had a two week preparation in the Peruvian Andes and we were already acclimatized even before we came to La Paz. We were therefore relatively prepared for this challenging trek.
And after we spent a considerable amount of time in high altitude we did learn one important lesson:
You should NEVER, and I mean NEVER, over-force yourself in very high altitudes (3500+m), primarily because you put your body in a completely new and irregular condition and you have absolutely no idea in which way will the altitude affect your organism. You should always stay well within your climbing and physical capabilities and give your body enough time to acclimatize to a new environment.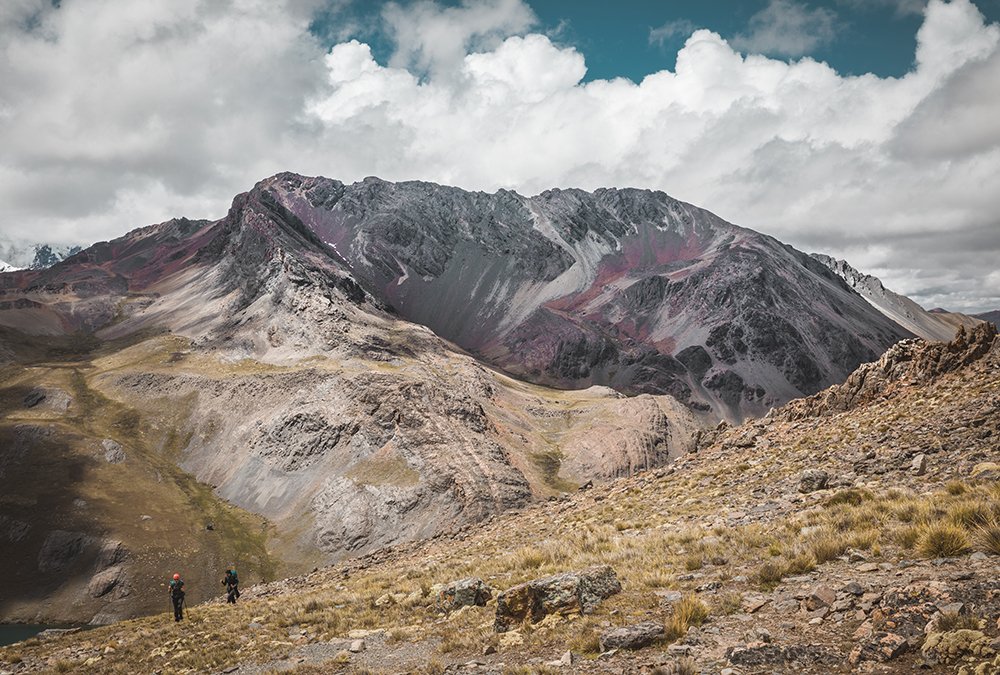 You should alway give your body enough time to acclimatize ! Just take it easy, these mountains aren't going anywhere…
Even if you are a tip-top professional athlete at 0m altitude that absolutely doesn't mean that you'll be immune to any trouble when you hit 4000m+ altitude.
The altitude sickness strikes unexpectedly and it's symptoms vary from one person to another. Your body will usually give you several warnings in a form of light head pressure, headache, dizziness etc.
If you ignore these symptoms and continue to force your body, they can quickly become much more severe.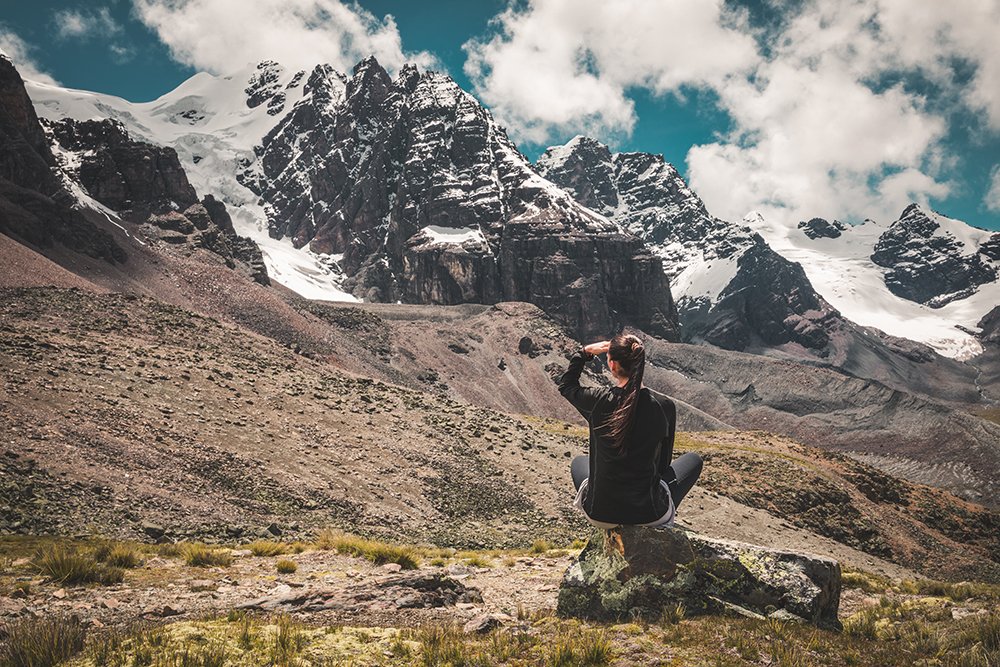 During our first trek, I've had an opportunity to get a taste of the altitude sickness, and guys trust me, this experience was no joke…
The best way to avoid these complications is simply by giving your body several days to get use to the altitude. If in Bolivia, just chill at La Paz for a day or two and see how your organism is reacting.
It almost goes without saying that it's absolutely necessary to consume A LOT of water while in high altitudes. Of course, chewing some Coca leaves is more than recommended as this helps the brain to absorb more oxygen.
I know that some of the mountaineers would disagree, but mountain climbing is not about reaching the top…it's about enjoying the wonderful journey !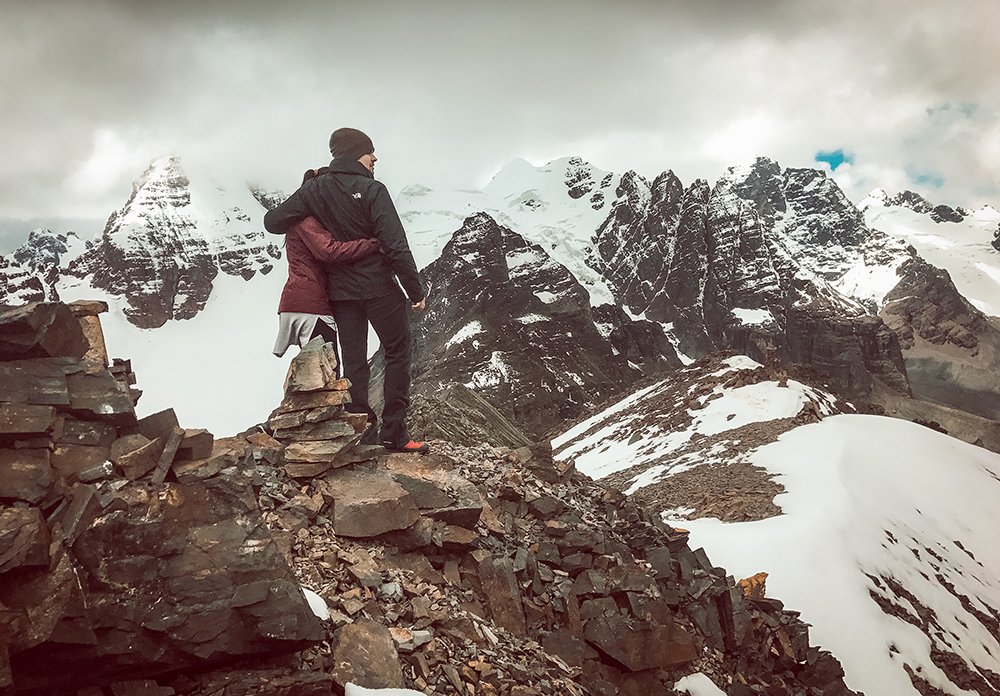 It's never about the destination, it's always about the journey !
And the further we went, the more it became clear that "Pico Austria" trek will be a fitting end to our incredible Peru-Bolivia adventure !
After we crossed 5000m, we noticed that most of the plants have completely disappeared.
With each new step, you realize that you are venturing into a natural domain not intended for the life of human beings.
The abstract rock formations hypnotize with their strange esthetics and beauty and it becomes clear why most of the ancient civilizations believed that their deities resided in these cloud temples. And, in our opinion, this makes perfect sense.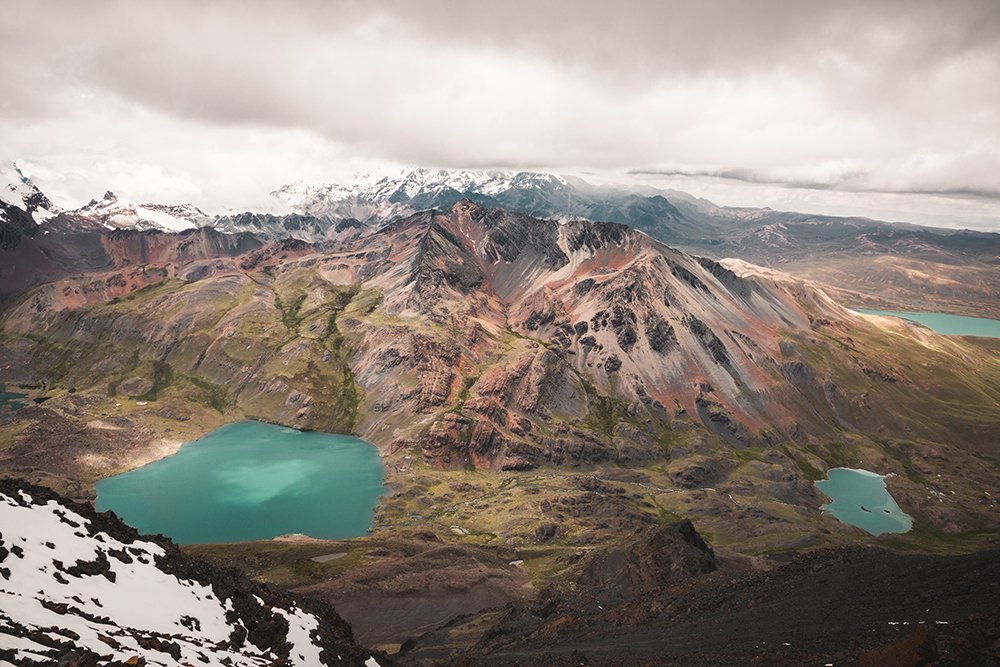 In our opinion, "the house of god" perfectly fits a place such as this.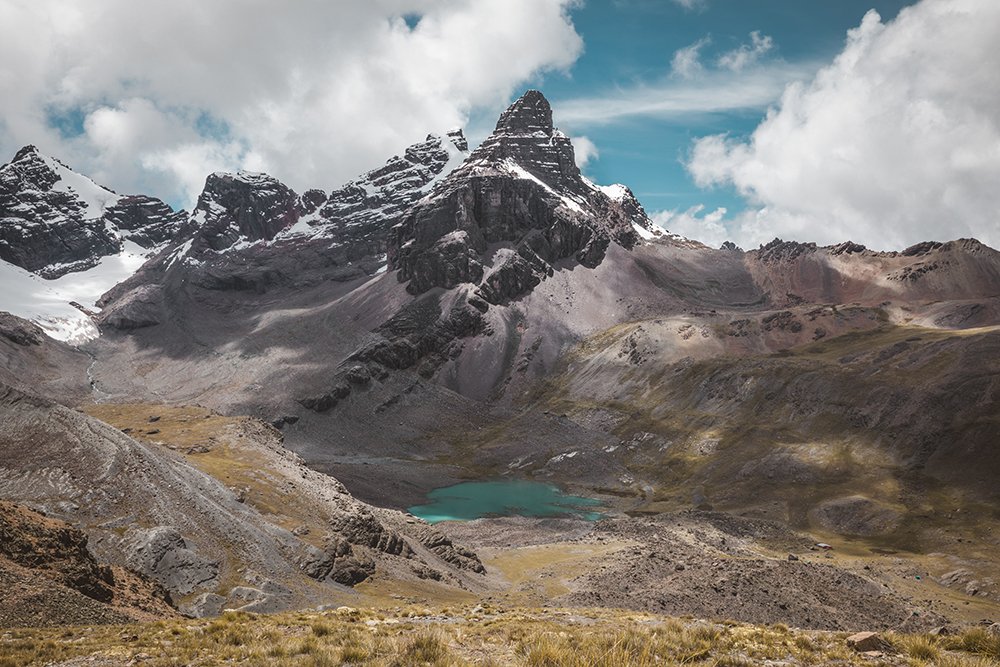 Doesn't it ?
No man made temple comes close to the ones which the nature had sculptured over millions and millions of years.
Being surrounded by these ancient "temples" you quickly realize just how small we are and that we are a tiny yet an inseparable part of a larger scale world.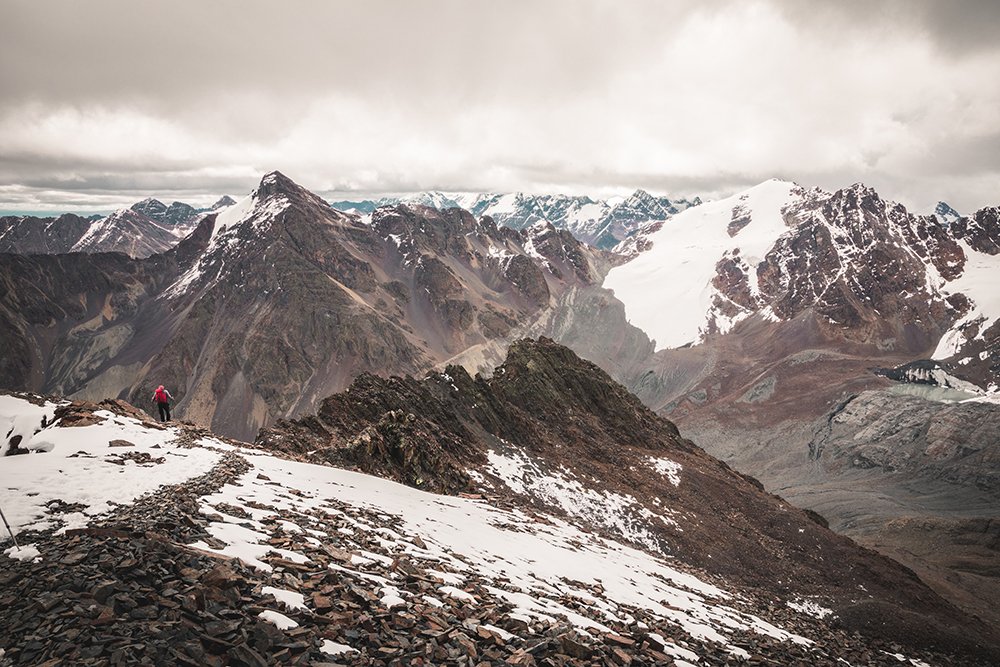 The mountains can teach us many things…and most importantly that the universe doesn't revolve around us.
I must admit that the remaining 100-200m of the ascend were quite physically and mentally exhausting. We got shivers thinking that we would have to cover an extra 3500m altitude to reach The Everest… But who knows, maybe one day… 😜🧗‍♂️🏔
It's funny how our mind tends to attach to a certain object or a pattern in times of great physical exhaustion.
I was, for instance, mentally marking several rocks as check points and I considered each new and heavy step to be some kind of mantra which kept me going.
Near the end of the trek, we have reached a wall like rock formation separating the seemingly endless ascension track on one side and the incredibly impressive view on the other side: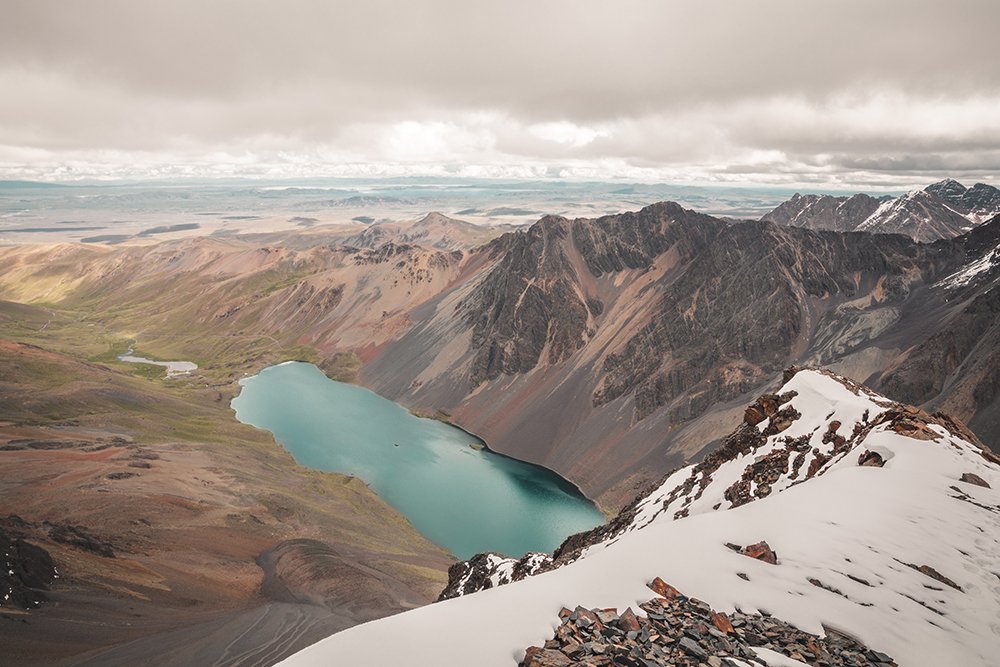 Boom !
And by the time we noticed that we were so exhausted that we could barely make one more step, we found ourselves at the very top of "Pico Austria" (5350m) !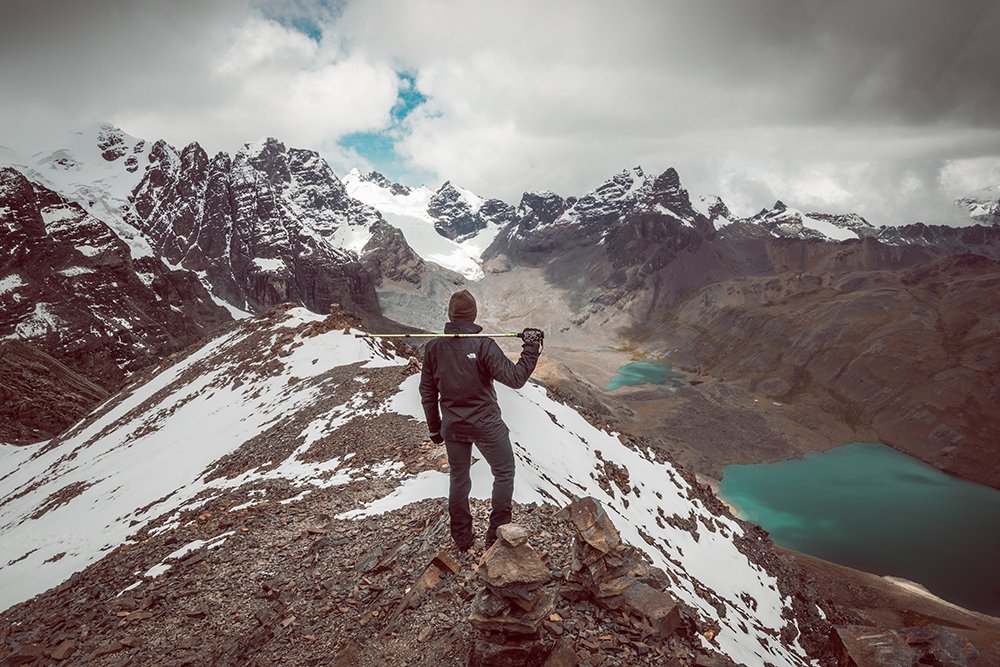 Finally !
At one point, our guide approached us and yelled "Congratulations! You've practically reached The Mount Everest Base Camp!" – which stands at 5364m altitude!
We remember thinking "Dear god, no wander we are so breathless…"
The moment we experienced standing there, surrounded by all that completely surreal natural scenery, is hardly transformed into words.
But if were to use any some of them would be: Incomparable happiness, exhaustion, gratitude, awe, being overwhelmed, accomplishment…and most importantly, the feeling of being alive !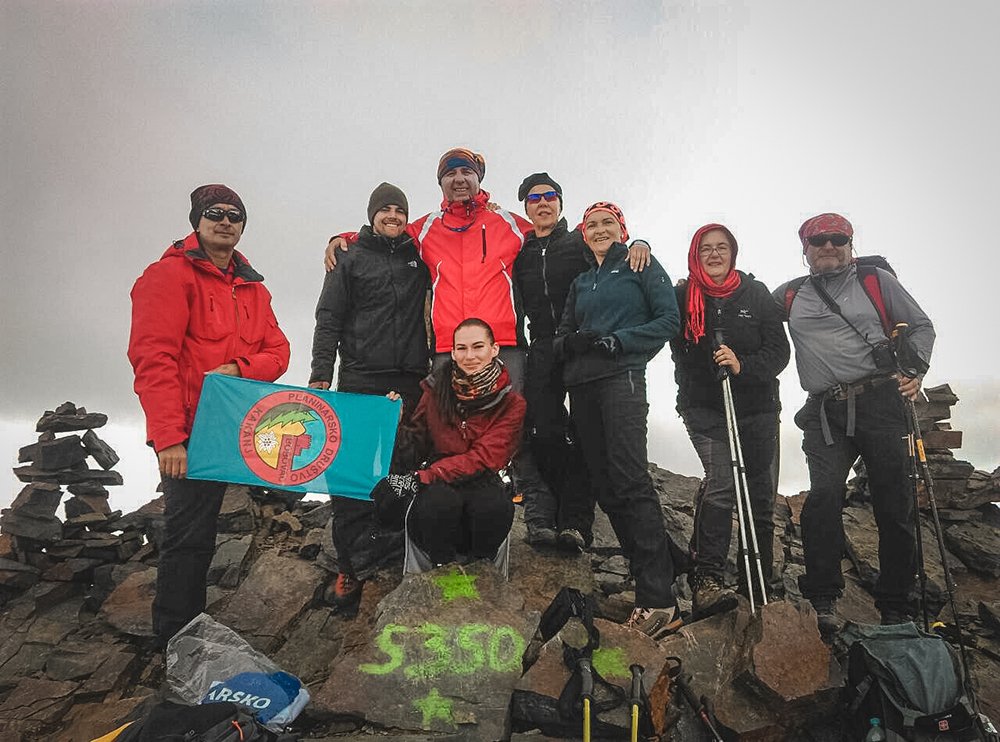 And it's such a good feeling 🙂 !
Me and my wife, Nina, have started our blog because we believe that this amazing world is full of moments that have the power to move and change an individual.
Our goal is to bring these powerful moments, through our experience, closer to those ready to pursue them.
If we can categorize and define as "normal" the fact that we are consciously alive on this beautiful rock (planet) flying in the infinity along with several other rocks, that all together orbit around one that's burning ☀️- then we honestly don't understand why chasing our dreams and living creatively should be regarded as something "abnormal".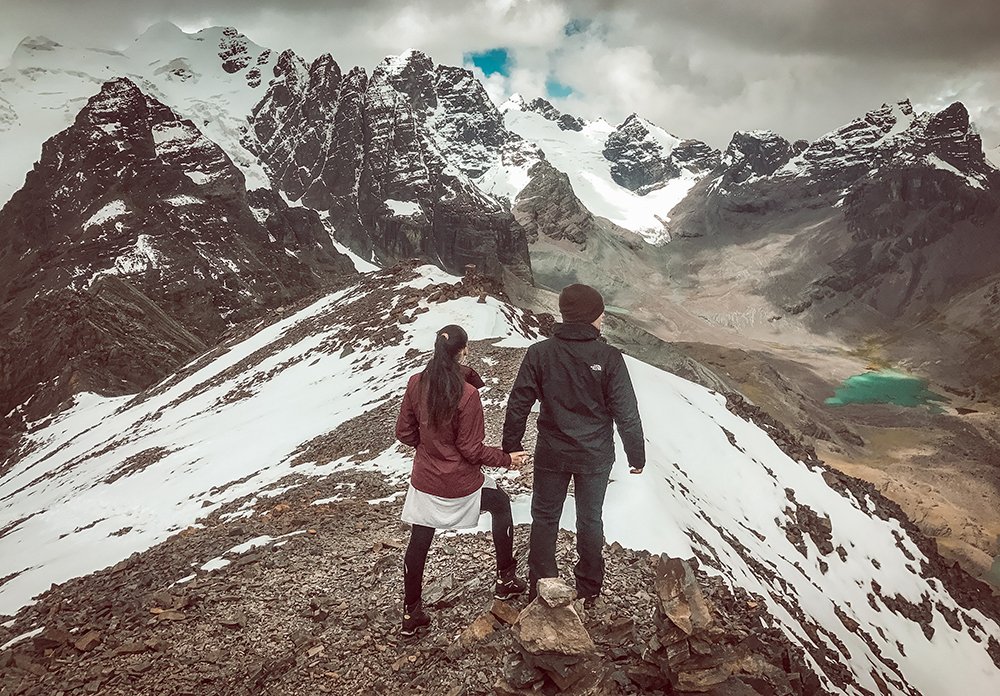 "We must let go of the life we have planned, so as to accept the one that is waiting for us." – Joseph Campbell
Well guys, this article marks the ending of our Peru-Bolivia 2018 trekking adventure !🙏
I truly hope that to you have enjoyed this unforgettable journey and I also hope that we have managed to reach some parts of your inner explorer…the one we all have deep within us.
We wish you many great adventures and we are happy to announce that we are already planning a new one, this time in Germany, and it will literally send us flying !
Never stop exploring and see you out there !

All presented content (photography, text, etc.) is my original work.
I hope that you've enjoyed reading this article as much as I have making it.
I really try my best to provide my readers with high quality travel content.
Feel free to share your thoughts in the comment section bellow.
Click HERE for more great adventures from around the world !
Love,
Damijan&Nina